Thank you to this week's volunteers (May 6)
Offering Receivers: Vickie MacLeod, Wanda Klingbell, Rose Johnston
Counters: Linda Pond, Vickie MacLeod, Bill Cockburn
Scripture Reader: Dallas Davis
Greeters: Rose Johnston
Coffee Hour: Volunteer Needed
Nursery: Colleen & Tony Watson
Church School: Terri Astle, Jordan and Candace Schriver
Next week's volunteers (May 13)
Offering Receivers: Brian Barnes, Paul Lawson, Jessie Sagawa, Stephen MacKay
Counters: Linda Pond, Brian Barnes, Paul Lawson
Scripture Reader: Kathy MacKay
Greeters: Jessie Sagawa, Humphery Akwar
Coffee Hour: Sheila & Greg Black
Nursery: Cindy Cunningham, Alex Cunningham
Church School: Terri Astle, Jordan and Candace Schriver
Spaghetti Dinner Fundraiser –  This Saturday, May 5th at 5:30 pm enjoy a delicious spaghetti supper in the church hall in support of the Roof Fund Campaign. By free will offering.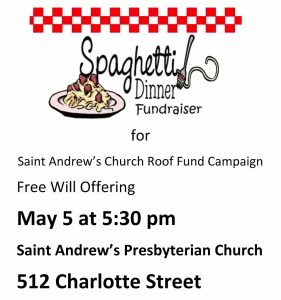 Please join us in the hall as we celebrate birthdays. Whether it be a milestone or not we have reason to celebrate and thank God for his beautiful gift of life.
May 4    Joel Bragdon
May 7    George Hayward
May 10 Eleanor Scott
May 11  Mona Wilson
May 14  Jean West
May 22  Jamie Howie
May 25  Andrew Ottens
May 27  Paul Lawson
The Link – Do you have a poem, story, recipe or article you think would be of interest to others? Preparations are underway for the next issue of "The Link".  Please send submissions to the church office, the deadline has been extended to May 13th.
Save the Date – In support of the Roof Fund Campaign, on June 10 at 4:00pm there will be a Memorial Hymn Sing.  Please pick up your letter at the back of the sanctuary on Sunday for more information.
VBS – Saint Andrew's Presbyterian "Shipwrecked" VBS – June 25, 26, 27 and 28.
SAPC is on Facebook! – Join us at https://www.facebook.com/Saint-Andrews-Presbyterian-Church-158274237528414/
---
Roof Fund Campaign
At the annual congregational meeting on Feb 25, 2018, the urgency of taking action on the deteriorating roof was emphasized.  Since then a significant leak has developed in the sanctuary.   A budget of $92,000 was approved at the annual meeting to complete a new roof, and a 'Roof Fund' has now been created to accept donations to help defray the cost. Since this is a very sizeable cost, and available resources are limited, we will need to raise a significant portion of the cost from donations in order to proceed.
Your prayerful consideration to contribute generously to this urgent appeal is needed in order to maintain Saint Andrew's beautiful church building.
Donation forms and envelopes marked "Roof Fund" are available on the tables at the back of the church. Your Donation, along with the completed form, can be put in the offering plate, can be sent to the Church Office, or given to a member of the Board or Session, whose names are shown in this bulletin. If you want someone to pick up your donation, please contact the church office at 455-8220. We sincerely thank you for your consideration to this urgent appeal. Donations are deductible for tax purposes.
Roof Fund Balance: The Roof Fund balance is now at $49,029.  Thanks for your support.
---
Pulpit Supply:
May 6 – Andrew Speight
May 13 & 27 – Rev. Bob Jones
May 20 – Jeanne Kaye Speight
Take-out Ham Supper – Friday, May 11, 4:00-6:00 pm at Nashwaaksis United Church.  Includes baked ham, potato salad, coleslaw, roll and dessert for only $10.  Reserve Thursday, May 10th, 472-2533.
Tea and Artist Show & Sale – Celebrate mom by taking her to this event at Wilmot United Church on May 12th  from 11 am – 2 pm.  For $10, enjoy an elegant tea featuring fancy sandwiches and dainty sweets along with an exhibition and sale of our congregation's fine arts.   Tickets are available by contacting Marlene Phillips at the Wilmot Church Office (458-1066).  Limited tickets will be available at the door.  Wilmot photographers, writers, potters, painters, quilters, knitters, rug hookers, sewing enthusiasts, wood and metal crafts and all other Wilmot artisans will display their handiwork at this special event.