Thank you to this week's volunteers (June 3)
Offering Receivers: Max & Mavis Cater, Al & Jean Boudreau
Counters: Calvin MacIntosh, Al & Jean Boudreau
Scripture Reader: Annette Stehouwer
Greeters: Jesse Sagawa, Humphery Akwar
Coffee Hour: Jeanne Kaye & Dick Speight
Nursery: Colleen & Tony Watson
Church School: Terri Astle, David Fraser and Stephen MacKay
Next week's volunteers (June 10)
Offering Receivers: Don & Lucille McCrea, Brian Barnes, Paul Lawson
Counters: Calvin & Peggy MacIntosh, Bill Cockburn
Scripture Reader: Tony Watson
Greeters: Don & Lucille McCrea
Coffee Hour: Choir
Nursery: Cindy Cunningham, Alex Cunningham
Church School: Jordan & Candace Schriver
Please join us in the hall as we celebrate June birthdays.
Whether it be a milestone or not, we have reason to celebrate and thank God for his beautiful gift of life.
Grace Collrin
Sheila Black
Nicholas Blom
Phyllis Llewellyn
Hollie Craig
Roy Melanson
Glen Hossack
Teddy Waugh
Mary Jane Yerxa
Riley Varlan
Rosie Schriver
Pauline Crawford
Peter Loi
Tim Blom
Joanne Peterson
Allison Blom
Carol Ottens
Bev Bramble
Norma Reed
Note from the Rev. Wendy MacWilliams, Interim Moderator:

    On behalf of the session, I am pleased to inform you that the Rev. Jon Van Den Berg will preach for the call here at Saint Andrew's Presbyterian Church on Sunday, June 17 at 11 a.m.  A congregational meeting will take place immediately following service that same day, in the church hall, to ascertain whether the congregation is prepared to proceed with the call and if it wishes to recommend to the Presbytery of NB that a call be extended.

    Arrangements are being made for Rev. Van Den Berg to meet with the session and various committees of Saint Andrew's on Saturday, June 16.  In addition, a church potluck will be held that Saturday night to give the congregation, Rev. Van Den Berg, and his wife opportunity to meet one another.

    A letter has been prepared for members and adherents with additional information, and it will be available for pick-up at the back of the sanctuary Sunday morning (June 3).  If you are not at worship that day, your letter will be mailed or delivered to you by your elder.
The Tuesday Morning Ladies Group would like to thank all those who donated plants and books to the sale last weekend. Left over plants were gratefully accepted by Mission Thrift Store. Leftover books were donated to Value Village.
A big thank you is extended to everyone who helped with the VBS Bake sale last Saturday, by donating baked goods, donating funds or helping to run the event.
Kingswood – The Youth Group will be going to Kingswood on Sunday, June 3rd from 6:00 to 8:00. $5 gets you bowling, lazer tag and arcade games. Please let Jordan know ahead of time if you would like to come, and/or if you would like to bring a friend.
College and Career Dinner – June 10th from 6pm to 9pm at Jordan and Candace's place in Maugerville. Drives can be arranged, and diets accommodated. Please let Jordan or Candace know if you are interested.
Memorial Hymn Sing – June 10 at 4:00pm in support of the Roof Fund Campaign.  Come lend your voice to the singing of selected hymns in memory of loved ones.  A supper of sandwiches, desserts, & beverages immediately following in the church hall.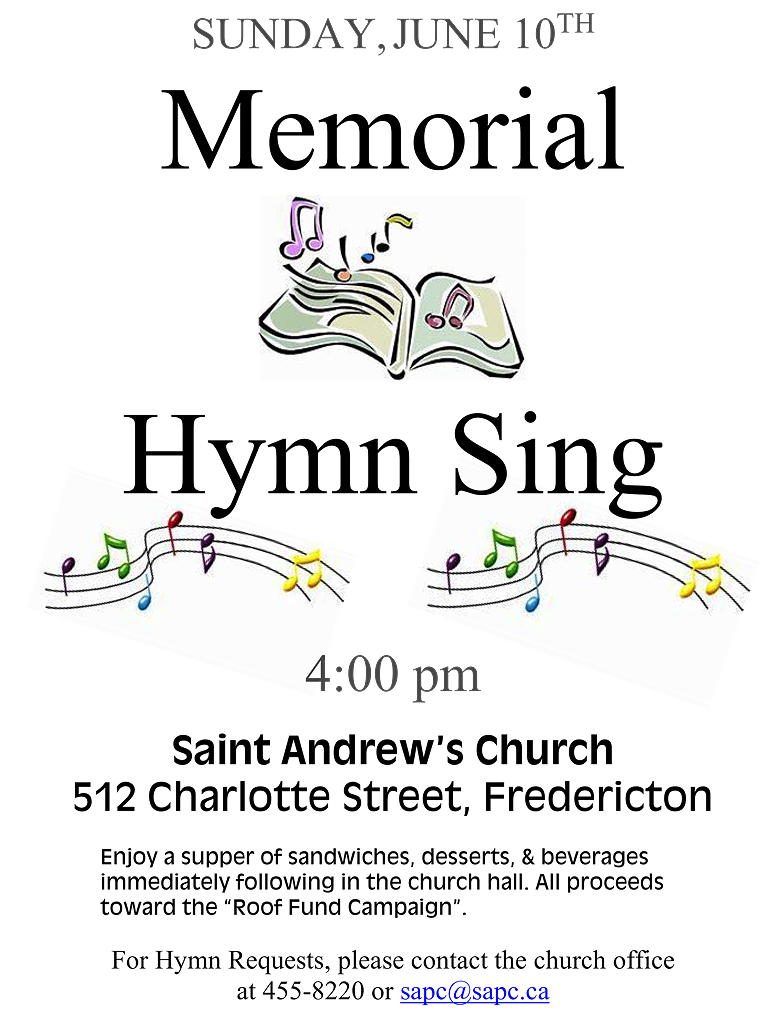 Samaritan's Purse – is working in the Fredericton area to provide relief to those affected by flooding. They are urgently looking for volunteers to help with clean up efforts.  All tools and equipment provided.  No prior experience or specific skills required.  Please call 1-844-547-2663 or visit www.samaritanspurse.ca for more information on how to help be the "hands and feet" of Christ in our community.
Run for the Word – Sat., June 2 10am – noon at Wilmot Park. In support of the Canadian Bible Society.  Registration packages available at www.biblesociety.ca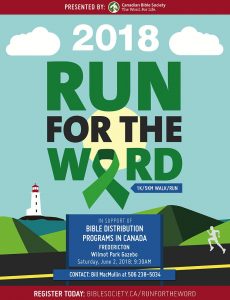 ---
Roof Fund Campaign
At the annual congregational meeting on Feb 25, 2018, the urgency of taking action on the deteriorating roof was emphasized.  Since then a significant leak has developed in the sanctuary.   A budget of $92,000 was approved at the annual meeting to complete a new roof, and a 'Roof Fund' has now been created to accept donations to help defray the cost. Since this is a very sizeable cost, and available resources are limited, we will need to raise a significant portion of the cost from donations in order to proceed.
Your prayerful consideration to contribute generously to this urgent appeal is needed in order to maintain Saint Andrew's beautiful church building.
Donation forms and envelopes marked "Roof Fund" are available on the tables at the back of the church. Your Donation, along with the completed form, can be put in the offering plate, can be sent to the Church Office, or given to a member of the Board or Session, whose names are shown in this bulletin. If you want someone to pick up your donation, please contact the church office at 455-8220. We sincerely thank you for your consideration to this urgent appeal. Donations are deductible for tax purposes.
Roof Fund Balance: The Roof Fund balance is now at $67,657. Thanks for your support.
---
Pulpit Supply:
June 3 – Jeanne Kaye Speight
June 10 – The Rev. Canon William (Bill) MacMullin
June 17 – Rev. Jon Van Den Berg
June 24 – Marg Leonard