Thank you to this week's volunteers (June 17)
Offering Receivers: Peggy & Calvin MacIntosh, Margo & Larry Sheppard
Counters: Calvin MacIntosh, Margo & Larry Sheppard
Scripture Reader: Bill Cockburn
Greeters: Peggy & Calvin MacIntosh
Coffee Hour: Linda Pond, Phyllis Llewellyn
Nursery: Mary Hossack, Rebecca Jonah
Church School: Terri Astle, Youth invited to stay in service
Next week's volunteers (June 24)
Offering Receivers: Youth
Counters: Calvin MacIntosh, Drew Speight, Rebecca Jonah
Scripture Reader: Youth
Greeters: Youth
Coffee Hour: Youth & Graduate BBQ
Nursery: Carol McEachen, Sheena Page
Note from the Rev. Wendy MacWilliams, Interim Moderator:

On behalf of the session, I am pleased to inform you that the Rev. Jon Van Den Berg will preach for the call at Saint Andrew's Presbyterian Church on Sunday, June 17 at 11 a.m.  A congregational meeting will take place immediately following our June 17th service, in the church hall, to ascertain whether the congregation is prepared to proceed with the call and if it wishes to recommend to the Presbytery of NB that a call be extended.
Note Cards – As part of our anniversary celebration, we are highlighting some of our beautiful memorial windows each of the four Sundays in June.  We are making available for $1.00 per card, or 6 cards for $5.00, the stained-glass photo notecards which include a brief description of the window on the back of the card.  These can be purchased in the fellowship hall during coffee hour and all proceeds will go to the Roof Campaign.
Shipwrecked VBS – registration is open!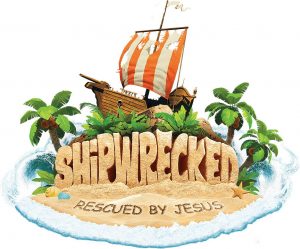 Monday, June 25th to Thursday, June 27th from 9:00AM to 12:30PM. Music, crafts, games, snacks and Bible stories. To register or volunteer, please call 506-897-0132, or email saintandrewsyam@gmail.com.
Youth and Graduate Sunday 2018
Next Sunday, June 24th we will celebrate the end of another school year, all are invited to attend the Youth and Graduate BBQ immediately after worship on the church lawn.
Alkreiz Family – For their newly acquired home, the Alkreiz family not only needs wallboard, flooring, paint, siding and roofing shingles, but also a lawn mower. If anyone can help with any of these purchases or can donate a lawn mower, please call Dallas.
Samaritan's Purse – is working in the Fredericton area to provide relief to homeowners affected by flooding. They are urgently looking for volunteers to help with clean up efforts.  All tools and equipment provided.  No prior experience or specific skills required.  Please call 1-844-547-2663 or visit www.samaritanspurse.ca for more information on how to help be the "hands and feet" of Christ in our community.  Ralph Graves, our custodian has been busy volunteering his time to this project and is willing and able to answer any questions about joining this effort.
Summer Hymn Sings – The third Tuesdays of June (19), July (17) and August (21) at 7 pm at Brunswick Street Baptist Church.  We sing your choices accompanied by organist, David Steeves and pianist, Leah Steeves.  After an hour of singing join us for an ice cream sandwich and conversation.  All are welcome.
Pulpit Supply:
June 17 – Rev. Jon Van Den Berg
June 24 – Marg Leonard
---