Thank you to this week's volunteers (Sep 23)
Offering Receivers: Paul Lawson, Colleen Watson, Lucille & Don McCrea
Counters: David Dell, Rose Carolyn Smith, Paul Lawson
Scripture Reader: Stephen MacKay
Greeters: Lucille & Don McCrea
Coffee Hour: Volunteer Needed
Nursery: Mary Hossack, Rebecca Jonah
Church School: Terri Astle, Candace & Jordan Schriver
Thank you to next week's volunteers (Sep 30)
Offering Receivers: Jessie Sagawa, Stephen MacKay, David & Leslee Dell
Counters: David Dell, Drew Speight, Vickie MacLeod
Scripture Reader: Kathy MacKay
Greeters: Doris Stairs
Coffee Hour: Jean & Al Boudreau
Nursery: Carol McEachen, Sheena Page
Church School: Terri Astle, Candace & Jordan Schriver
Church School has started! If you would like to be a part of our team as a storyteller or doorkeeper, please talk to Jordan or Terri.
Minister's Moving Fund
As of September 16, the moving fund has $4,055 out of an estimated $8000. As shown on the map below, at a rate of $5/km, our virtual moving van has reached Saint-Hyacinthe, QC — 811 out of 1600 km).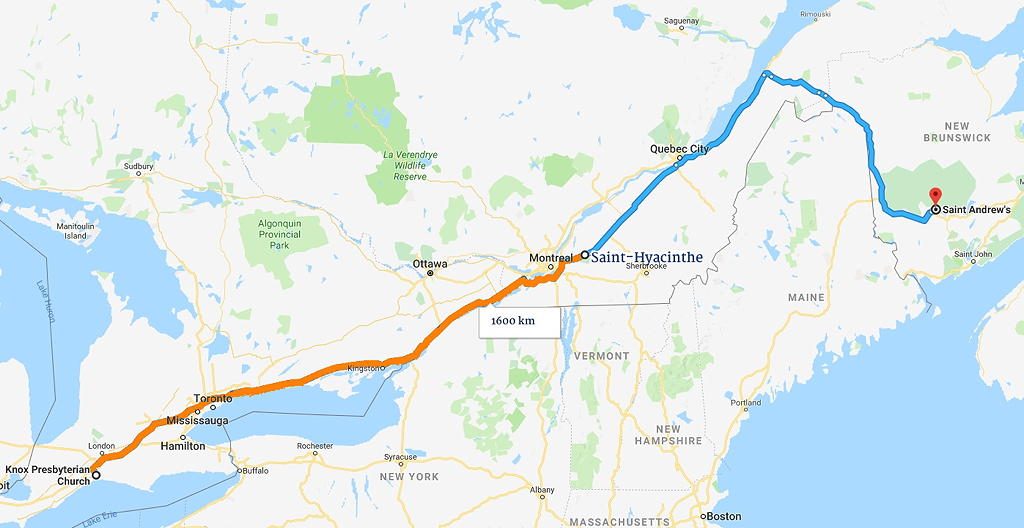 Choir –  Sr. Choir rehearsals are on Wednesdays at 7:00 pm for the upcoming worship services and special seasonal music.  New or returning choir members are always welcome and we are especially looking for support in the men's sections.  Children's Choir will begin on Friday, September 21st from 4:00 – 4:30 in the Church Hall.  There is no age limit and all children are welcome!  We are hoping to be ready to sing for Thanksgiving Sunday.
The Link – Please pick up your copy of The Link at the back of the Sanctuary on Sunday.
Youth Group Fall Kickoff: Friday, September 21st from 6:30 to 10:30. Our classic beginning of the school year event, beginning with a campfire at Odell Park (weather permitting) then back to the church for more food and  fun and games. Please let Jordan know if you are interested.
College and Career Dinner – Sunday, September 23rd, 6:30 at Jordan and Candace's place in Maugerville. Drives can be arranged, and diets accommodated. Please let Jordan know if you are interested.
The Presbytery Induction Service – for Rev Jon Van Den Berg will be held on Sept 26 at 7pm at Saint Andrew's.
Flooring Update – The supplier of the replacement hall flooring has confirmed that the supplies will be placed in the hall on Friday, September 28 for acclimation and installed on Wednesday, Thursday, October 3 and 4.  All items on the hall floor will have to be stored in the vestibule and the sanctuary from October 2 to 5.
Fall Indoor Yard Sale – As you prepare for Fall and Winter, please set aside clothing and household goods for this upcoming fundraiser to be held Friday, Oct 26th 6-8pm and Saturday, Oct 27th 9am-noon.
Girl Guides and Scouts – Beavers, Cubs and Scouts meet Tuesday evenings beginning September 18. Sparks, Brownies and Guides meet on Wednesdays beginning September 19.
---