Thank you to this week's volunteers (November 25):
Offering Receivers: Al & Arlene MacDonald, Sheila & Greg Black
Counters: Andrew Ottens, Drew Speight, Sheila & Greg Black
Scripture Reader: Calvin MacIntosh
Greeters: Rose Johnston
Coffee Hour: Jeanne Kaye & Dick Speight
Nursery: Carol McEachen, Sheen Page
Church School: Terri Astle, Jacqueline Cleland,                                                                                    Jordan & Candace Schriver
Thank you to next  week's volunteers (December 2) :
Offering Receivers: Elders
Counters: Carol Ottens, Drew Speight, Helen & Ron Bagnell
Scripture Reader: Rose Carolyn Smith
Greeters: Rose Johnston
Coffee Hour: Fraser Family
Nursery: Colleen & Tony Watson
Church School: Terri Astle, Jordan & Candace Schriver
Advent Season Bible Study – Join in around the gathering table in the kitchen on Tuesday mornings at 11 am beginning November 27 for four weeks. Please let Rev Jon or the office sapc@sapc.ca know if you are able to attend so that we can get a book to you.
Get ready for The Great ADVENTure! Friday, November 30th at 5:00 pm. Pizza followed by activities for the children and church decorating for Advent.
The Link – Don't forget to pick up your copy of the latest newsletter at the back of the sanctuary today.
Church School Youth will be participating in worship on December 9. This special service will be followed by our Annual Pot Luck Lunch.
Volunteering in 2019 – Saint Andrew's is blessed with many volunteers. Please consider joining this dedicated group by adding your name to the volunteer roster for 2019. Opportunities include: Offering Counter, Offering Receiver, Greeter, Scripture Reader, Coffee Hour Host, Nursery Helper or Church School Teacher. If you are interested in helping in any of these areas please contact the office at 455-8220 or sapc@sapc.ca
Minster's Moving Fund
The moving van on the map at the back of the sanctuary has covered many kilometres between Fingal, Ontario and the Van Den Berg's new home in Fredericton. Every $5.00 received will move the van an additional kilometre along the route. Envelopes are available at the back of the church giving you an opportunity to offset these moving expenses not included in the annual budget.
As of November18, the moving fund has $5,480 out of an planned $8000. As shown on the map, our virtual moving van is puttering through Quebec, having now reached Saint-Jean-Port-Joli, a distance of 1096 km out of 1600).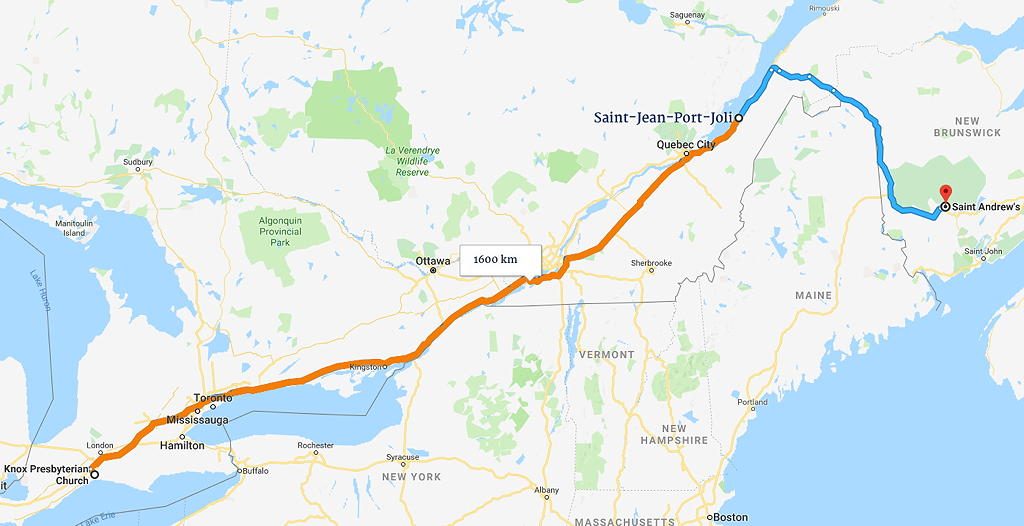 Lintuhtine Music Academy Choirs present:                                                        "The C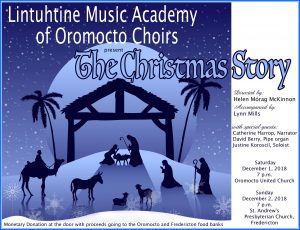 hristmas Story" with special guests: Catherine Harrop – narrator, David Berry – pipe organ and Justine Koroscil – soloist on Sunday, Dec. 2 at 7:00 pm here at Saint Andrew's. Monetary donation at door with proceeds to go to Fredericton Food Bank.
Advent Carol Festival – The Annual Advent Carol Festival held each year at St. Paul's United Church will take place on Wednesday, December 5 at 7:30 p.m. Local church and community choirs will present a program of familiar, as well as new, Christmas music. A freewill offering will be received on behalf of the CBC Feed a Family campaign to support the 12 food banks in this area.
Memorial Tree Lighting – McAdam's Funeral Home is pleased to host an evening of comfort and remembrance, as we pause to reflect on the season and those who have shared seasons past. The service will be held on Thursday, December 6 at 7:00 pm at McAdam's Funeral Home chapel.
Christmas Tea – There will be a Christmas Tea, "Angels Among Us", on Friday, Dec. 7th 1 – 3 pm at Nashwaaksis United Church. Admission by donation. Everyone welcome!
Christmas Services at Saint Andrew's:
Dec 20 – 7:00 pm Candle Light Service:                                                                                       A Light When All Others Seem Dark
Dec 24 – 5:00 pm Family Christmas Eve Service
Dec 24 – 7:00 pm Candles & Communion Service
Dec 25 – 10 am Christmas Day Worship Service
Cancelation Policy – Should it be necessary to cancel or postpone worship service due to a storm, the decision will be made no later than 9:30am. Cancellations will be posted on the main page of the church website, on the CBC New Brunswick Storm Centre page and if possible, though email, the news blog, Twitter feed, and recorded on our telephone answering machine.