Thank you to this week's volunteers (December 2):
Offering Receivers: Elders
Counters: Carol Ottens, Drew Speight, Helen & Ron Bagnell
Scripture Reader: Rose Carolyn Smith
Greeters: Rose Johnston
Coffee Hour: Fraser Family
Nursery: Colleen & Tony Watson
Church School: Youth participate in worship
Thank you to next week's volunteers (December 9): 
Offering Receivers: Youth
Counters: Carol Ottens, Bill Cockburn, Calvin & Peggy MacIntosh
Scripture Reader: Youth
Greeters: Youth
Coffee Hour: Congregational Christmas Potluck
Nursery:  Rebecca Jonah
Church School: Youth participate in worship
Get ready for The Great ADVENTure!  Friday, November 30th at 5:00 pm. Pizza followed by activities for the children and church decorating for Advent.
Celebrating December birthdays:
Ella Bragdon
Jon Wilson
Melanie Storey
Joshua Fraser
Muriel Aiken
David Berry
Joe Schriver
Nick Gaudet
Angel Collrin
Avery Collrin
Joy Howie
Bill Watson
Magenta Watson
Ron Bagnell
Advent Season Bible Study – Join in around the gathering table in the kitchen on Tuesday mornings at 11 am (Dec 4, 11 & 18). Please let Rev Jon or the office know if you are able to attend so that we can get a book to you.
Church School Youth will be participating in worship on December 9. This special service will be followed by our Annual Pot Luck Lunch.
Advent Donations – This Sunday we are collecting Soups and Socks for the food and clothing donation boxes.  Next week: Pastas & Gloves.
The Mission Tree is set up at the back of the Sanctuary. On the tree, you will find suggested gifts for the families that we are supporting this Advent season. Linking Lives Inc., a 100% volunteer non-profit group that seeks to alleviate poverty in the Fredericton area, has identified these two families, whose Christmas will be memorable because of love expressed through Saint Andrew's Mission Tree gifts. Learn about Linking Lives and take on volunteer opportunities which you will find at https://www.facebook.com/groups/250662488634992/
Please return mission tree gifts to the church by December 16th.
2019 Offering Envelopes – are ready to be picked up at the back of the sanctuary. If you are not on our list and you would like to receive offering envelopes, please contact the church office at sapc@sapc.ca
Cookie Dough sales have been slow and Christmas baking time is upon us, so this Sunday get your choice of ginger, chocolate chip, oatmeal raisin or shortbread. Of the 72 tubs purchased, 38 remain. At $10/tub, you will not only get a bargain, but if all are sold, Saint Andrew's will have a profit of $313 to go toward helping those in need of food and clothing.
Minster's Moving Fund
The moving van on the map (now) in the hall has covered many kilometres between Fingal, Ontario and the Van Den Berg's new home in Fredericton. Every $5.00 received will move the van an additional kilometre along the route. Envelopes are available at the back of the church giving you an opportunity to offset these moving expenses not included in the annual budget.
As of November 25, the moving fund has $5,830 out of an planned $8000. As shown on the map, our virtual moving van is about to turn the corner and head south, having reached the outskirts of Rivière-du-Loup, QC, a distance of 1166 km out of 1600).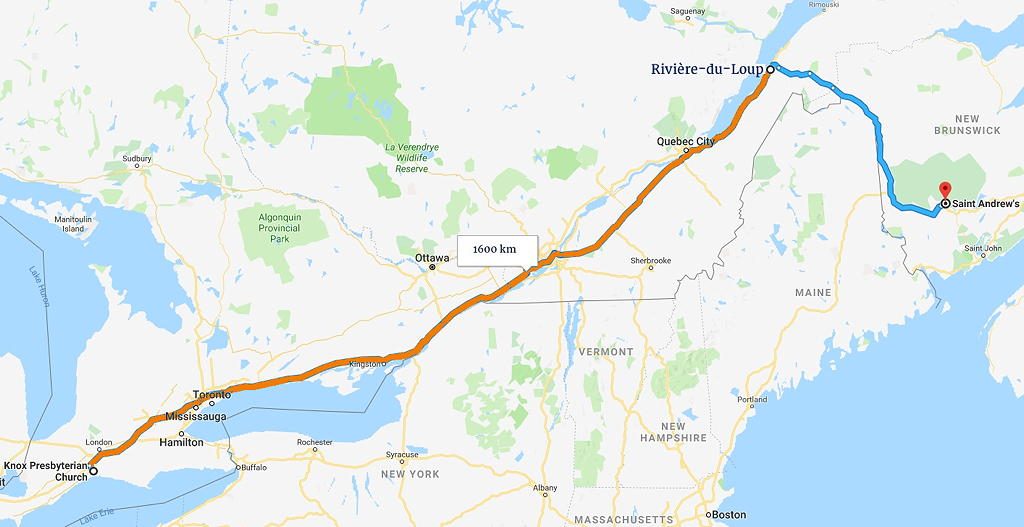 Volunteering in 2019 – Saint Andrew's is blessed with many volunteers. Please consider joining this dedicated group by adding your name to the volunteer roster for 2019. Opportunities include: Offering Counter, Offering Receiver, Greeter, Scripture Reader, Coffee Hour Host, Nursery Helper or Church School Teacher. If you are interested in helping in any of these areas please contact the office at 455-8220 or sapc@sapc.ca
Lintuhtine Music Academy Choirs present their annual "The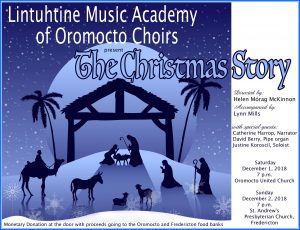 Christmas Story" with special guests: Catherine Harrop – narrator, David Berry – pipe organ and Justine Koroscil – soloist on Sunday, Dec. 2 at 7:00 pm here at Saint Andrew's. Monetary donation at door with proceeds to go to Fredericton Food Bank.
Advent Carol Festival – The Annual Advent Carol Festival held each year at St. Paul's United Church will take place on Wednesday, December 5 at 7:30 p.m. Local church and community choirs will present a program of familiar, as well as new, Christmas music. A freewill offering will be received on behalf of the CBC Feed a Family campaign to support the 12 food banks in this area.
LymeNB On-line Auction – LymeNB is holding its second annual on-line auction beginning on December 5 running till December 8. Lots of deals to be had from hand turned wooden bowls to first aid kits to gift certificates of all kinds to a Via Rail Travel credit valued at 1500 dollars. Please visit https://www.32auctions.com/LymeNBonlineauction2018 set up your account and place your bids. The proceeds will help LymeNB fulfill its mission of preventing tick-borne illnesses, while supporting and being a voice for those affected. Questions? Please contact Janet at 447-2298.
Memorial Tree Lighting – McAdam's Funeral Home is pleased to host an evening of comfort and remembrance, as we pause to reflect on the season and those who have shared seasons past. The service will be held on Thursday, December 6 at 7:00 pm at McAdam's Funeral Home chapel.
Christmas Tea – There will be a Christmas Tea, "Angels Among Us", on Friday, Dec. 7th 1 – 3 pm at Nashwaaksis United Church. Admission by donation. Everyone welcome!
Christmas Services at Saint Andrew's:
Dec 20 – 7:00 pm Candle Light Service:                                                                                                          A Light When All Others Seem Dark
Dec 24 – 5:00 pm Family Christmas Eve Service
Dec 24 – 7:00 pm Candles & Communion Service
Dec 25 – 10 am Christmas Day Worship Service