Thank you to this week's volunteers:
Greeters: Guides and Scouts
Scripture Reader: Guides and Scouts
Coffee Hour: Annual Congregational Meeting and Lunch
Nursery: Carol McEachen, Sheena Page
Church School: Youth stay in worship today.                                                                                           Church School resumes on March 17.
Offering Receivers: Guides and Scouts
Counters: Calvin MacIntosh, Vickie MacLeod, Bill Cockburn
Next week's volunteers (March 3):
Greeters: Doris Stairs
Scripture Reader: Rebecca Jonah
Coffee Hour: Juliet & Dallas Davis
Nursery: Mary Hossack, Rebecca Jonah
Church School: Supervision in nursery.                                                                                                       Church School resumes on March 17th.
Offering Receivers: Juliet & Dallas Davis, Leslie & David Dell
Counters: David Dell, Rebecca Jonah
Events at SAPC:
Thursday, Feb 21 at 6pm    Join us for Praise & Pizza!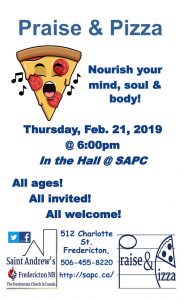 • Canned Meat & Hats month! Please be generous to those in need.
• Join us in the hall on Sunday following worship for the Annual Congregational Meeting and lunch.   Please remember to bring your copy of the Annual Report as well as your questions to the meeting.
• Winter Bible Study – Tuesdays at 11am beginning Feb 26.
• Annual March Break Lunch – At the Courtyard at the Ramada on March 10.  Please join us for fellowship and a meal. Please reply to Mary Charters at 459-1539 or chartersm@rogers.com by March 7 if you will be joining us. If you want to attend but are uncertain because of the cost, please contact Mary or Rev Jon.
• VBS Committee – The first meeting of the SAPC Vacation Bible School 2019 committee will be on March 3 immediately following the service. If you would like to get involved, please let Jordan know before then.
• Search Committee –  A search committee is being formed to find a replacement for the SAPC Family Life Coordinator. If you would like to be part of this committee, please let Jordan know before March 3rd.
Prayer Tree Coordinator: If you are in need of prayer for yourself, relatives, friends, or for world issues, contact Sylvia at ksharris1933@gmail.com or 455-8051.
Nashwaaksis United Church – Invites you on Monday, Feb 25 at 7pm to view the film Compassion In Action. This film invites the viewer into challenging conversations with vulnerable people and offers effective, heartfelt responses. Discussion to follow.
World Day of Prayer Service – Sunday, March 3 at 2:00pm at Christ Church Cathedral. Service prepared by the Women of Slovenia. All are welcome!
Community Volunteer Tax Program will be offering free tax clinics for seniors, students & low-income individuals. For more information see Ralph. Volunteers needed.
Offering Summary for the week of Feb 17:                                                           Budgeted: $3,122 Actual: $2,419