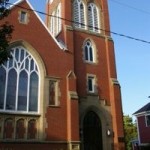 Welcome to Saint Andrew's Presbyterian Church, Fredericton, New Brunswick. We hope you find the information on our website helpful. If you have any questions or concerns, take a look at our FAQ page, or contact us.
---
News

Reserve the Date for Summer Concert: Sunday evening, August 27th, 7:00 pm here at Saint Andrew's Church, featuring Maple Syrup [more…]
Sad News: Grape Cottage, our manse from 1944-1973, burned recently. See more at CBC News.
Recordings of Worship: Due to hardware issues, recordings of services/sermons will not be made for the next few weeks, effective June 18. Our apologies.
See our Blog for the latest Announcements and other news (updated weekly).

Lectionary Readings for August 13, 2017 (10th Sunday after Pentecost): Genesis 37:1-4, 12-28 and Psalm 105:1-6, 16-22, 45b; OR 1 Kings 19:9-18 and Psalm 85:8-13; Romans 10:5-15; Matthew 14:22-33
---
You are invited to worship with us. We worship at 11:00am each Sunday followed by coffee and conversation in the church hall (lemonade on the lawn in summer).
If you are unable to join us in person, you may listen to the Sunday Sermons on our site or borrow the entire service on CD from our Library.
There are many activities taking place within Saint Andrew's church.
Explore our site, consult the calendar or contact us for details. We would love to hear from you.