Excerpts from our Dec. 2 service
Audio:


Video:

More News
Facebook is back! We have re-created our Facebook page at a new address. If you had bookmarked the old URL, you will need to replace it.
Reserve Dates:

Sun Dec 9 @11am:

Advent 2 Youth in Worship and Pot-luck Lunch

…collecting

Pasta & Gloves in the donation boxes …and remember to select an angel from the Mission Tree at the back of the Sanctuary (return gifts by Dec 16).
Tues Dec 11 @ 11am: Advent Season Bible Study (continues 2 more weeks) [more…]

Parking Restrictions:

Winter parking restrictions are now in effect along Carleton Street as well as other nearby streets [more…]

Cookie Dough: The cookie dough has arrived! $10/tub

Moving Fund:

As of Dec 2, our virtual moving van is taking a break at the Big Stop in Saint-Antonin, QC, just this side of Rivière-du-Loup — a distance of 1185 km.
See our Blog for more details, the latest Announcements and other news (updated weekly).
---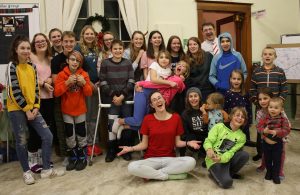 You are invited to worship with us. We worship at 11:00am each Sunday followed by coffee and conversation in the church hall (lemonade on the lawn in summer).
If you are unable to join us in person, you may listen to the Sunday Sermons on our site, on our YouTube Channel, via Podcast, or you may borrow the entire service on CD from our Library.
There are many activities taking place within Saint Andrew's Church. Explore our site, consult the calendar, view or follow our Twitter feed,  see our blog, view our FAQ page, or contact us. We would love to hear from you.