News

Excerpts from our most recent service:
Fall Indoor Yard Sale: Fri., Oct. 26 from 6-8pm and Sat., Oct. 27 from 9am-noon [more…]
Congregational Wedding Shower: for Humphrey Akwar and Catherine Wilson — Sun., Oct. 28, following worship [more…]
College and Career Dinner: Sun., Oct. 28 from 6:30 to 9:30

Moving Fund:

As of Oct 14, our virtual moving van is inching through Lévis, QC — a distance of 1011 km.

See our Blog for more details, the latest Announcements and other news (updated weekly).
---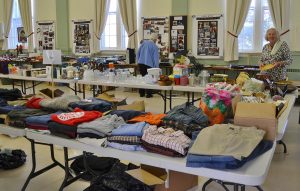 You are invited to worship with us. We worship at 11:00am each Sunday followed by coffee and conversation in the church hall (lemonade on the lawn in summer).
If you are unable to join us in person, you may listen to the Sunday Sermons on our site, on our YouTube Channel, via Podcast, or you may borrow the entire service on CD from our Library.
There are many activities taking place within Saint Andrew's Church. Explore our site, consult the calendar, view or follow our Twitter feed,  see our blog, view our FAQ page, or contact us. We would love to hear from you.