Opportunities abound for music making and music listening.
Choir
Our choir meets regularly to rehearse anthems and larger works for special events and services. Under the direction of David Berry, the choir is open to all. If you love to sing, please come and join us Wednesday evenings at 7:00.
The Saint Andrew's Children's Choir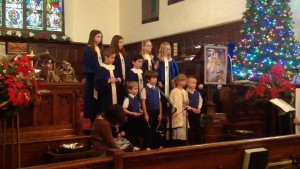 For all children ages 3-12, the choir meets regularly and primarily to experience the joy of singing with other children but also to prepare sacred musical selections for occasional presentation in church worship services. It is led by Kathie Berry.