Worship is currently in-person.  To protect the most vulnerable in attendance, social distancing and masking are highly recommended.
A video introduction to New Beginnin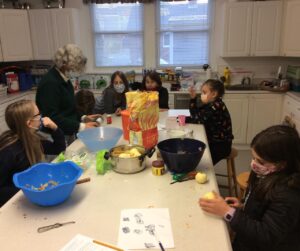 gs from our coach Rev. Ian Fraser:  Welcome to New Beginnings
FOR YOUR CALENDAR:  New Beginnings small groups begin this week, Sunday April 10th to Wednesday April 13th (depending on your group).  Haven't joined a small group yet?  Please contact sapc@sapc.ca as soon as possible.
A full page of FAQs about the New Beginnings program can be found here: FAQ on NEW BEGINNINGS.  The transformational ministry weekend will be followed by four weeks of small group discussions which will determine the future of our congregation.  Your participation is ESSENTIAL if you wish to be part of the decision making process.  Email sapc@sapc.ca to sign up for one of 4-5 different time slots. 
A past sermon by our past much loved interim minister Rev. Susan Brasier.
Excited about the 12 Neighbours project in Fredericton?
Join us for once-a-month gatherings as we discover WHO is our neighbour and HOW can we love them.  Call 455-8220 or email sapc@sapc.ca to join one of six small discussion groups.
If you would like to maintain your regular offerings or otherwise make a financial contribution to our ministries, visit our Donate page. If you would like to donate using your credit card, we offer secure payment options through PayPal
More News
For a full description of upcoming activities and announcements – including a monthly calendar –  please see our handy-dandy

Our online services have been paused as we search for tech support.   Thank you for your patience as we get our website and virtual services up and running again.
Previous services are available on our Sermons page.
---
Welcome To

Our

Church

(a rare video in the Choir Loft Conversations Series):
You are invited to worship with us:
Each Sunday, we worship in the Sanctuary at 11:00am.  Coffee and conversation in the hall (or lemonade on the lawn in the summer) is suspended during the COVID19 pandemic.
If you are unable to join us in person, you may listen to the Sunday Sermons on our site, on our YouTube Channel, on our iTunes Channel, via Podcast, or you may borrow the entire service on CD from our Library.
There are many activities taking place within Saint Andrew's Church. Explore our site, consult the calendar, view or follow our Twitter feed or Facebook page, see our blog, view our FAQ page, or contact us. We would love to hear from you.