Thank you to this week's volunteers (April 29)
Offering Receivers: Carol & Andrew Ottens, Brian Barnes, Paul Lawson
Counters: Andrew Ottens, Wanda Klingbell, Rebecca Jonah
Scripture Reader: Tim Blom
Greeters: Peggy & Calvin MacIntosh
Coffee Hour: Leifso Family
Nursery: Carol McEachen, Sheena Page
Church School: Tamela Collrin, Jordan and Candace Schriver
Next week's volunteers (May 6)
Offering Receivers: Vickie MacLeod, Wanda Klingbell, Rose Johnston
Counters: Linda Pond, Vickie MacLeod, Bill Cockburn
Scripture Reader: Dallas Davis
Greeters: Rose Johnston
Coffee Hour: Jordan Schriver and Youth
Nursery: Colleen & Tony Watson
Church School: Terri Astle, Jordan and Candace Schriver
Yard Sale – The Annual Spring Yard Sale will be held  this weekend, April 27th and 28th.  Donations will be gratefully accepted until 1pm Friday.
An Evening of Music in support of the Roof Fund Campaign – Come join us this Sunday, April 29th at 7pm here at Saint Andrew's for a Fundraiser Concert presented by the choirs of Lintuhtine Music Academy.  Featuring special guests David Berry and Sidney Murgatroyd and directed by Helen MacKinnon.  Entrance by free will offering.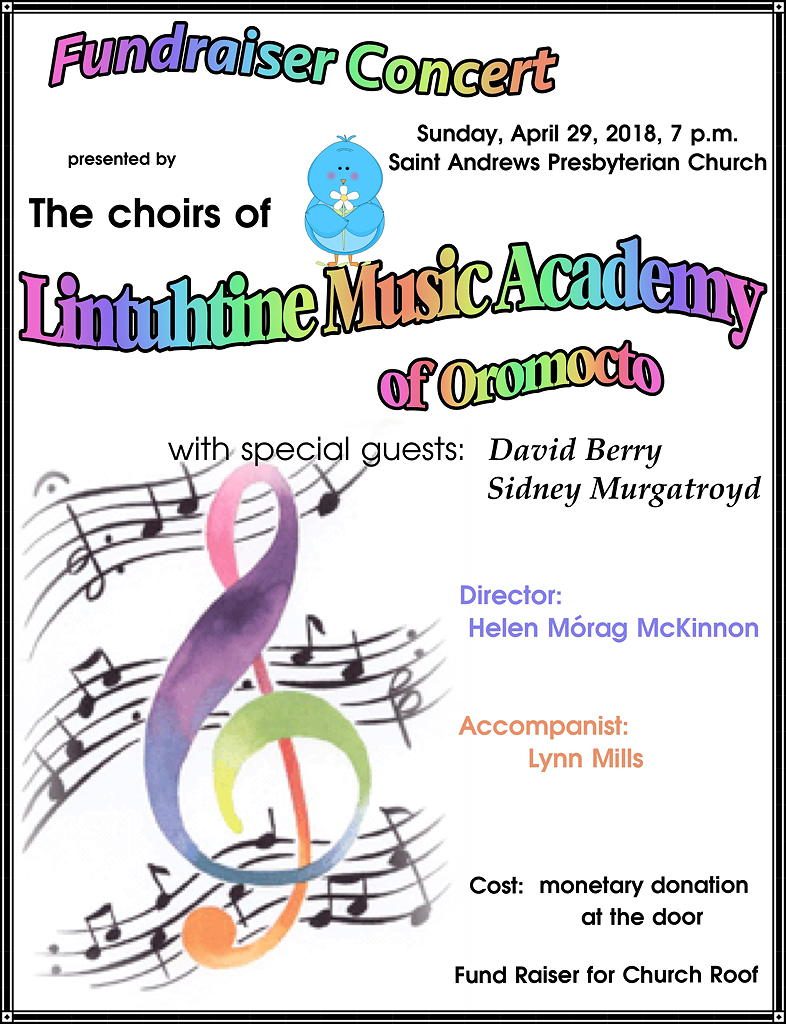 Council for Christian Ministry on Campus – The Annual General Meeting for the Fredericton Council for Christian Ministry on Campus will take place on Monday, April 30 at 12 noon in the Family Room of Brunswick Street Baptist Church.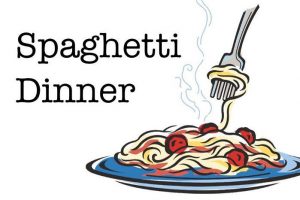 Save the Date – May 5th at 5:30 pm enjoy a delicious Spaghetti Dinner in the church hall in support of the Roof Fund Campaign.
The Link – Do you have a poem, story, recipe or article you think would be of interest to others? Preparations are underway for the next issue of "The Link".  Please send submissions to the church office, the deadline has been extended to May 13th.
Save the Date – Saint Andrew's Presbyterian "Shipwrecked" VBS – June 25, 26, 27 and 28.
World Lyme Day: May 1 – The New Brunswick Lyme Disease Association is holding a gathering on the steps of the New Brunswick Legislature between 7:30 and 8:30 pm to mark World Lyme Day.  Please join us and support our efforts to raise awareness about this disease.  Invited guests, David Coon of the Green Party, Dr. Vett Lloyd of Mount Allison, Lyne Beaulieu, nurse/researcher of Université de Moncton, and Dr. Jennifer Russell, Chief Medical Officer for the Province will be on hand to say a few words. For more information, call Janet Higgins.
Upcoming events in support of the Roof Fund Campaign
Roof Fund Campaign – At the annual congregational meeting on Feb 25, 2018, the urgency of taking action on the deteriorating roof was emphasized.  Since then a significant leak has developed in the sanctuary.   A budget of $92,000 was approved at the annual meeting to complete a new roof, and a 'Roof Fund' has now been created to accept donations to help defray the cost. Since this is a very sizeable cost, and available resources are limited, we will need to raise a significant portion of the cost from donations in order to proceed. Your prayerful consideration to contribute generously to this urgent appeal is needed in order to maintain Saint Andrew's beautiful church building. Donation forms and envelopes marked "Roof Fund" are available on the tables at the back of the church. Your Donation, along with the completed form, can be put in the offering plate, can be sent to the Church Office, or given to a member of the Board or Session, whose names are shown in this bulletin. If you want someone to pick up your donation, please contact the church office at 455-8220. We sincerely thank you for your consideration to this urgent appeal. Donations are deductible for tax purposes.
Roof Fund Balance: The Roof Fund balance is now at $36,409. Thanks for your support.  
Pulpit Supply:
April 29 – Rev. Basil Lowery
May 6 – Andrew Speight
May 13 & 27 – Rev. Bob Jones
May 20 – Jeanne Kaye Speight