Thank you to this week's volunteers (May 27)
Offering Receivers: Elders (Trinity Sunday)
Counters: Linda Pond, Brian Barnes, Rebecca Jonah
Scripture Reader: Eleanor Scott
Greeters: Max & Mavis Cater
Coffee Hour: Carol & Murray McEachen
Nursery: Carol McEachen & Sheena Page
Church School: Terri Astle, Candace Schriver
Next week's volunteers (June 3)
Offering Receivers: Max & Mavis Cater, Al & Jean Boudreau
Counters: Calvin MacIntosh, Al & Jean Boudreau
Scripture Reader: Annette Stehouwer
Greeters: Jesse Sagawa, Humphery Akwar
Coffee Hour: Jeanne Kaye & Dick Speight
Nursery: Colleen & Tony Watson
Church School: Terri Astle, David Fraser and Stephen MacKay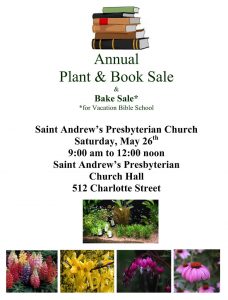 Plant and Book Sale – Saturday, May 26th from 9 am – noon.  Calling all gardeners and book lovers, please consider donating plants and books to the Annual Plant and Book Sale hosted by the Tuesday Morning Ladies Group.  Plants and books may be dropped off at the church hall on Thursday evening May 24th between 6 – 8pm and on Friday, May 25th from 9am – 1pm.
Calling All Bakers! – The VBS bake sale will be held on Saturday, May 26th and we are looking for baked goods. If you are interested and able, please drop off your baked goods to the church on or before Friday the 25th. All proceeds will go toward this year's VBS program. Thank you!
The Link – Please pick up your copy of The Link at the back of the sanctuary.
Kingswood: The Youth Group will be going to Kingswood on Sunday, June 3rd from 6:00 to 8:00. $5 gets you bowling, lazer tag and arcade games. Please let Jordan know ahead of time if you would like to come, and/or if you would like to bring a friend.
Memorial Hymn Sing – June 10 at 4:00pm in support of the Roof Fund Campaign.  Requests may be made by completing the provided form and returning it to the church office.  Additional forms are available at the back of the sanctuary.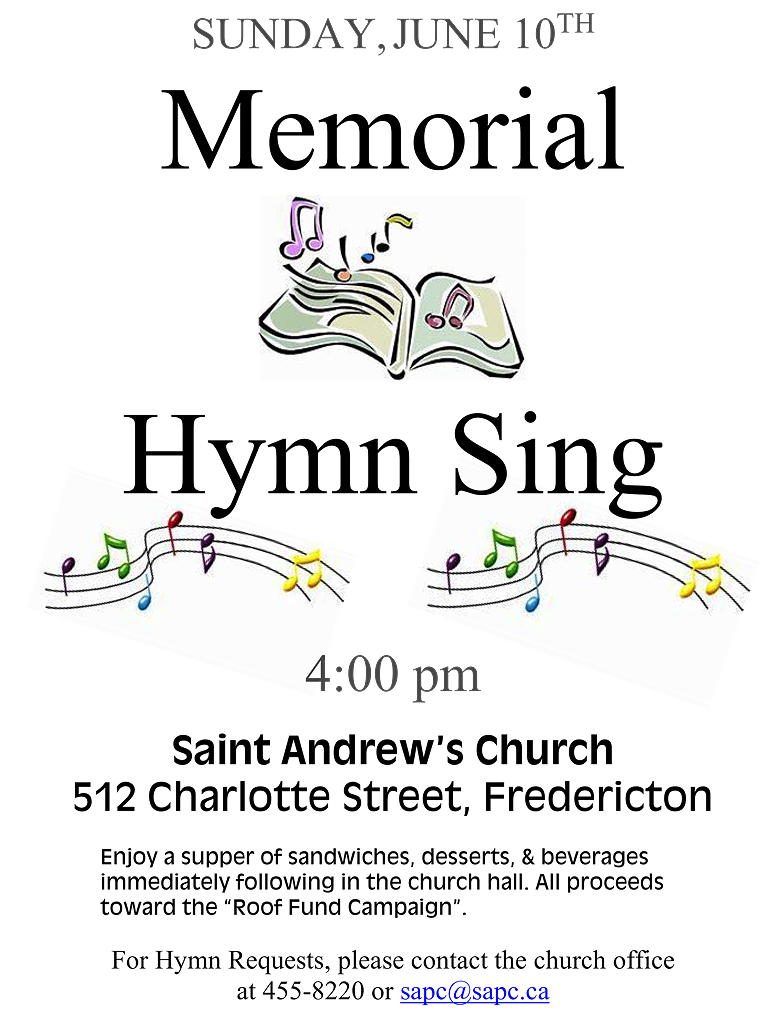 ---
Roof Fund Campaign – At the annual congregational meeting on Feb 25, 2018, the urgency of taking action on the deteriorating roof was emphasized.  Since then a significant leak has developed in the sanctuary.   A budget of $92,000 was approved at the annual meeting to complete a new roof, and a 'Roof Fund' has now been created to accept donations to help defray the cost. Since this is a very sizeable cost, and available resources are limited, we will need to raise a significant portion of the cost from donations in order to proceed.
Your prayerful consideration to contribute generously to this urgent appeal is needed in order to maintain Saint Andrew's beautiful church building.
Donation forms and envelopes marked "Roof Fund" are available on the tables at the back of the church. Your Donation, along with the completed form, can be put in the offering plate, can be sent to the Church Office, or given to a member of the Board or Session, whose names are shown in this bulletin. If you want someone to pick up your donation, please contact the church office at 455-8220. We sincerely thank you for your consideration to this urgent appeal. Donations are deductible for tax purposes.
Roof Fund Balance: The Roof Fund balance is now at $64,822. Thanks for your support.
---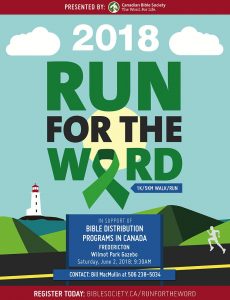 Run for the Word –  Wilmot Park Gazebo on Saturday, June 2 from 10:00 AM – Noon.1K/5K Run/Walk in support of the Canadian Bible Society. Our headlines remind us that many Canadians are hurting with life's challenges. Your support for Run for the Word 2018 can help the Canadian Bible Society provide the healing power of God's Word.
WHY NOT RUN/WALK for the word yourself? Good exercise and fellowship and a Good Cause. Your friends would want to HELP. Registration packages available at www.biblesociety.ca/event/run-word
---
Pulpit Supply:
May 27 – Rev. Bob Jones
June 3 – Jeanne Kaye Speight
June 10 – The Rev. Canon William (Bill) MacMullin
June 17 – Andrew Speight
June 24 – Marg Leonard