Thank you to this week's volunteers (June 24)
Offering Receivers: Youth
Counters: Calvin MacIntosh, Drew Speight, Rebecca Jonah
Scripture Reader: Youth
Greeters: Youth
Coffee Hour: Youth & Graduate BBQ
Nursery: Carol McEachen, Sheena Page
Church School: Youth participating in service
Next week's volunteers (July 1)
Offering Receivers: Andrew Ottens, Brian Barnes, Helen McKinnon Bagnell & Ron Bagnell
Counters: John Astle, Helen McKinnon Bagnell & Ron Bagnell
Scripture Reader: Drew Speight
Greeters: Max & Mavis Cater
Coffee Hour: Lemonade on the Lawn
Nursery: Supervision by Elders
Youth and Graduate Sunday 2018 – This Sunday, June 24th we will celebrate the end of another school year, all are invited to attend the Youth and Graduate BBQ immediately after worship on the church lawn.
Shipwrecked VBS – registration is open!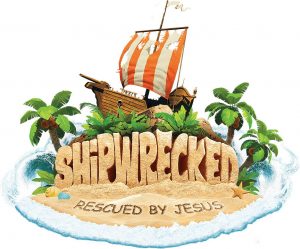 Monday, June 25th to Thursday, June 27th from 9:00AM to 12:30PM. Music, crafts, games, snacks and Bible stories. To register or volunteer, please call 506-897-0132, or email saintandrewsyam@gmail.com.
Note Cards – As part of our anniversary celebration, we are highlighting some of our beautiful memorial windows each of the four Sundays in June.  We are making available for $1.00 per card, or 6 cards for $5.00, the stained-glass photo notecards which include a brief description of the window on the back of the card.  These can be purchased in the fellowship hall during coffee hour and all proceeds will go to the Roof Campaign.
Roof Fund Balance: The Roof Fund balance is now at $72,014. Thank you.
Alkreiz Family – For their newly acquired home, the Alkreiz family not only needs wallboard, flooring, paint, siding and roofing shingles, but also a lawn mower. If anyone can help with any of these purchases or can donate a lawn mower, please call.
Summer Hymn Sings – The third Tuesdays of July (17) and August (21) at 7 pm at Brunswick Street Baptist Church.  An hour of singing followed by  ice cream sandwiches and conversation.  All are welcome.
Pulpit Supply:
June 24 – Marg Leonard
July 1 – Drew Speight