Thank you to this week's volunteers (Sep 2)
Offering Receivers: Linda Pond, Margo & Larry Sheppard, Wanda Klingbell
Counters: David Dell, Wanda Klingbell, Margo & Larry Sheppard
Scripture Reader: Dallas Davis
Greeters: Wanda Klingbell
Lemonade on the Lawn: Volunteer Needed
Nursery/Supervision: Jordan Schriver, Colleen Watson
Thank you to next week's volunteers (Sep 9)
Offering Receivers: Lucille & Don McCrea, Brian Barnes, Rebecca Jonah
Counters: David Dell, John Astle, Rebecca Jonah
Scripture Reader: Nicholas Blom
Greeters: Lucille & Don McCrea
Coffee Hour: Jeanne Kaye & Dick Speight
Nursery/Supervision: Colleen & Tony Watson
Please join us as we celebrate September birthdays:
Ariel Ottens
Lois Eldridge
Owen Keetch
Stephen MacKay
Kathie Berry
Julie Peterson
Rose Carolyn Smith
David Charters
Kathy MacKay
Mike Nickerson
Kaelyn Nickerson
Rebecca Jonah
Donna Jones
A Note from Rev. Wendy:

I am back from summer leave and am pleased to confirm that the Rev. Jon Van Den Berg's call to Saint Andrew's has been approved by his home Presbytery and he has formally accepted the call.  He will begin ministering at SAPC on September 15, with his first worship service planned for September 16.

I am not intending to call a session meeting in early September unless an urgent matter arises.  I've spoken with Rev. Van Den Berg and the next session meeting will likely be Monday October 1 at 7 p.m. (to be confirmed).  With regards to transition, the congregation or appropriate committees/individuals will be contacted and informed as needed. Thank you.
---
Minister's Moving Fund
You will find an envelope included in this week's bulletin, giving you an opportunity to offset the moving expenses for Rev Jon and Cathy Van Den Berg, from Fingal, Ontario to our Beautiful City.
It is anticipated that the moving costs will amount to approximately $8,000.00, with the distance between these two locations being 1600 kilometres. This expense was not included in the Annual Budget, as it could not be projected in February exactly when the vacancy would be filled.
You will see a large map at the back of the Church, highlighting the route between the two communities, and indicating how many kilometres are already covered. Each kilometre will cost $5.00, and we have $720.00 already in the Moving Fund.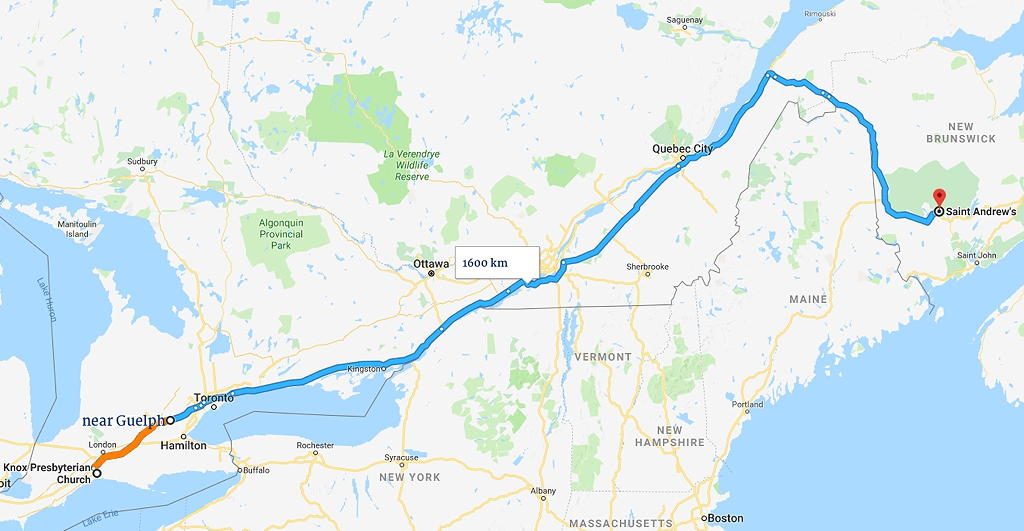 A Committee has been struck to undertake this endeavour, chaired by Stephen MacKay.
You are encouraged to use the enclosed envelope, to help offset the expected moving costs.
---
Upcoming Events:
Church School resumes – Sept  9
Tuesday Morning Ladies Group resumes – Sept 11
Submissions for The Link due – Sept 16
Welcome Back Corn Boil – Sept 16
Presbytery Induction Service for Rev. Jon Van Den Berg – Sept 26 at 7pm
Pulpit Supply:
September 2 – Marlene Phillips
September 9 – Andrew Speight
Grief Share – Beginning September 6 at 7:00 pm at Brunswick Street Baptist Church, a 13-week series for those who have experienced the loss of a loved one.  Please call 458-8348 if you would like more information.