Thank you to this week's volunteers (Oct. 21)
Offering Receivers: Al & Jean Boudreau, 2 Volunteers Needed
Counters: Rose Carolyn Smith, Al & Jean Boudreau
Scripture Reader: Ron Bagnell
Greeters: Volunteer Needed
Coffee Hour: Blom Family
Nursery: Mary Hossack, Rebecca Jonah
Church School: Terri Astle, Candace & Jordan Schriver
Thank you to next week's volunteers (Oct. 28)
Offering Receivers: Calvin & Peggy MacIntosh, Lucille & Don McCrea
Counters: Rose Carolyn Smith, Vickie MacLeod
Scripture Reader: Tony Watson
Greeters: Lucille & Don McCrea
Coffee Hour: Leifso Family
Nursery: Carol McEachen, Sheena Page
Church School: Terri Astle, Candace & Jordan Schriver
Cookie Dough – The cookie dough has arrived!  Choose from chocolate chip, oatmeal raisin, ginger and shortbread.  At $10 a tub, it's an easy way to bake cookies. The sale is a fund raiser for the Mission Committee. For pickup see Dallas Davis on Sunday.
Pops Organ Recital: Remembering Elmer Bourque – The Fredericton Organists' Association is pleased to present a recital of fun and entertaining organ music on Sunday, October 21 at 2pm at Christ Church Parish Church. A freewill donation at the door with proceeds going towards an organ scholarship in memory of Elmer Bourque.
There will be a Congregational Wedding Shower for Humphrey Akwar and Catherine Wilson (Cat) on Sunday, October 28 following the morning worship service.  It will take the form of an Enhanced Coffee Hour and sandwiches and sweets will be served as a light lunch.  We are asking that those whose last names begin with A – L, provide a plate of sweets and M – Z a plate of sandwiches.  A basket will be provided for your cards, gift cards and best wishes.
College and Career Dinner – Sunday, October 28 at Jordan and Candace's place in Maugerville from 6:30 to 9:30.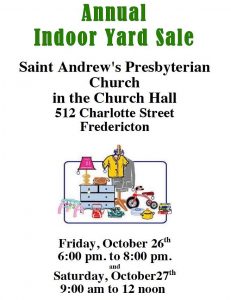 Fall Indoor Yard Sale – As you prepare for Fall and Winter, please set aside clothing and household goods for this upcoming fundraiser to be held Friday, Oct 26th 6-8pm and Saturday, Oct 27th 9am-noon. Donations can be dropped off Oct 22 to 26 from 9am – 1pm.
Fredericton Women's Inter-Church Council – Annual General Meeting on Monday, October 22 at 1:30pm at St. Paul's United Church. Everyone of any denomination of faith is welcome to attend.  The 2019 World Day of Prayer service prepared by the women of Slovenia. Guest speaker will be Rev. Shirley DeMerchant, President of the Canadian Women's Inter-Church Council.
Lunch and Learn: Travel Tips for Seniors – Tuesday, October 23 at St. James Church.  Planning some retirement adventures?  Wondering about how to better protect yourself while traveling?  Are you concerned about how to health and wellness-related issues?  Ramsay Anderson from CAA Fredericton will be our guest speaker and will help address questions you may have related to travel planning and wellness.  Lunch provided.  No cost.  Please register by Monday, Oct. 22 by emailing sjchurch@nbnet.nb.ca or calling 450-4031.
*This is part of our A.C.T.S. for Seniors programming.  Funding for lunch and learns promoting seniors' well-being, safety and social interaction/engagement was made possible under the Government of Canada's New Horizon for Seniors Program.
Hallowe'en Tea – Friday, October 26 from 1:30 – 3:30 pm at St. James Church. A spook-tabular event, with tea/coffee, sandwiches, cake, treats and door prizes. Hosted by the G.R.O.W. Group, feat. music by The Fiddlers Fancy. No registration necessary, no cost, but freewill donations accepted (in support of a local community initiative) Feel free to dress up in costume or Hallowe'en colours.
Minister's Moving Fund
As of October 14, the moving fund has $5,055 out of an planned $8000. As shown on the map below, at a rate of $5/km, our virtual moving van is inching through Lévis, QC— a distance of 1011 km out of 1600).