Thank you to this week's volunteers (April 28):
Greeters: Rose Johnston
Scripture Reader: Kathy MacKay
Coffee Hour: Leifso family
Nursery: Carol McEachen, Sheena Page
Church School: Jacqueline Cleland, Terri Astle
Offering Receivers: Brian Barnes, Paul Lawson, Rose Johnston,                                                       Rebecca Jonah
Counters: Andrew Ottens, Rebecca Jonah
Next week's volunteers (May 5):
Greeters: Rose Johnston
Scripture Reader: Dallas Davis
Coffee Hour: Jordan & Youth
Nursery: Rebecca Jonah, Sonya Burrill
Church School: Terri Astle
Offering Receivers: Vickie MacLeod, Rose Johnston, Bill Cockburn,                                              Linda Pond
Counters: Linda Pond, Vickie MacLeod, Bill Cockburn
Offering Summary for week of April 21:                                                                 Budgeted: $4,084 Actual: $5,797
Upcoming Events:
Praise and Pizza – Join us tonight, April 25 @ 6pm for a time of worship & food in the hall. All welcome!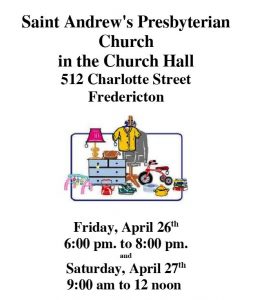 Indoor Yard Sale – April 26th from 6 – 8 pm and 27th from 9am – 12pm. Donations will be gratefully accepted today and tomorrow from 9am-1pm.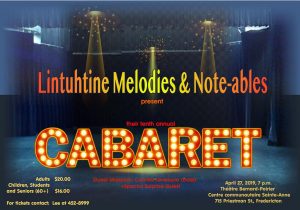 Lintuhtine Melodies & Note-ables present their 10th Annual CABARET – Saturday, April 27 at 7:00 pm at the Théâtre Bernard Poirier (Centre Communautaire Sainte Anne). To purchase tickets, call Lee at 452 – 8999.
Five people from our church are part & parcel in this production – Adeline & Natalie Leifso, Shelly Lewis, and Ron Bagnell (Technical Director) all under the direction of Helen Mórag McKinnon. Enjoy top notch choral singing, solos, duets, trios and ensemble selections, dance presentations and a
special mystery guest. Lots for everyone to enjoy!
Holocaust Memorial – April 28, at 3:00 pm at the Capital Community Church.
Evening Bible Study/Potluck – POSTPONED – Originally scheduled to begin May 6th, this event will be rescheduled to start at a later date yet to be confirmed.
Big Box Games: Middle School youth event – Friday, May 3rd from 6:00 to 8:00. How much fun can you have with half a dozen refrigerator boxes, two rolls of duct tape and some glow sticks? Come find out and bring some friends!
Downtown video scavenger-umentary: High School event – Sunday, May 5th from 6:00 to 8:00 we will be heading downtown with phone cameras to create whacky documentaries. New-ish event – should be a lot of fun!
Prayer Tree Coordinator: If you are in need of prayer for yourself, relatives, friends, or for world issues, please contact Sylvia at ksharris1933@gmail.com or 455-8051.
Please consider serving our congregation in one of these ways:
Are you ready to be the new Convenor of the Mission Team? The position is open to anyone who has a heart for God's people and a love of reaching the lost. Please see Rev Jon or Dallas for more information.
Is God calling you to step up and serve your congregation in the role of Treasurer? Andrew & Carol have agreed to stay on until a replacement is found and will help transition the new Treasurer into the position. The position is open to anyone who desires to be instrumental in church finances and caring for the congregation's daily operations.