Thank you to this week's volunteers (May 26):
Greeters: Sylvia Harris
Coffee Hour: Carol & Murray McEachen
Nursery: Rebecca Jonah, Sonya Burrill
Church School: Terri Astle
Scripture Reader: Eleanor Scott
Offering Receivers: Colleen & Tony Watson, Linda Pond
Counters: Linda Pond, Dallas Davis
Next week's volunteers (June 2):
Greeters: Jesse Sagawa, Humphrey Akwar
Coffee Hour: Jeanne Kaye & Dick Speight
Nursery: Colleen & Tony Watson
Church School: Terri Astle
Scripture Reader: Ron Bagnell
Offering Receivers: Al & Jean Boudreau,                                                                                                           Ron Bagnell, Humphrey Akwar
Counters: Carol Ottens, Al & Jean Boudreau
Offering Summary for week of May 19:                                                                 Budgeted: $3,012 Actual: $2,400
Kingswood! – The youth group (Jr High School AND Sr High School) will be taking our annual trip to Kingswood tomorrow, Friday, May 24th from 6:00PM to 8:00PM. Arcade tokens, a round of laser tag, bowling and snacks all for $5. Please let Jordan know if you plan to attend.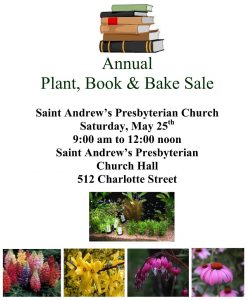 Plant & Book Sale – Saturday, May 25th from 9am to noon
Calling all gardeners and book lovers, please consider donating plants and books to the Annual Plant and Book Sale hosted by the Tuesday Morning Ladies Group. Plants and books may be dropped off at the church hall tomorrow, Friday, May 24th from 9am to 1pm and from 6 – 8pm.
Bake Sale This Saturday – In conjunction with the plant and bake sale this Saturday the Christian Education Committee is holding a bake sale to help support family activities throughout the summer. If you would like to contribute, please have your goodies to Jordan at the church before 9:00 on Saturday morning.
The Link – Do you have a poem, story, recipe or article you think would be of interest to others? Preparations are underway for the next issue of "The Link". Please send submissions to the church office by May 26th.
Graduates – Do you know someone in our congregation graduating from high school, college, university or other institutions? Please contact the church office at sapc@sapc.ca or 455-8220 so that they can be recognized in the next issue of the Link. Youth and Graduate Sunday will be celebrated June 23rd.
Praise & Pizza – Join us for the next Praise and Pizza on Thursday, May 30th at 6 p.m. in the hall.
Handbell Choir Concert – The Adult Handbell Choir of Brunswick Street Baptist Church invite you to a concert of classics, hymns and popular songs on Sunday, May 26, 6:30 pm. A freewill offering will be taken in support of the church's roofing project. All are welcome.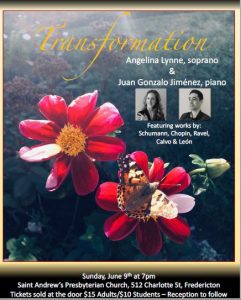 Upcoming Recital of Solo Piano Works and Art Song– Soprano Angelina Lynn and Colombian pianist Juan Gonzalo Jiminez, are delighted to present a recital of solo piano works and art song on Sunday, June 9th, 7:00 pm at SAPC. Both artists are pursuing their Doctor of Music degree at the University of Laval. The program will include well known works by Schumann, Chopin and Ravel, as well as some extraordinarily beautiful pieces by Colombian composers, Jaime Leon and Luis Calvo. Tickets will be sold at the door, $15.00 for adults and $10.00 for students, with reception to follow in the church hall.
Funeral Expense Fund – On April 16, the Keshishian family was welcomed to Bathurst as refugees from Syria. It was the dream of the father, Haroutyoun, to bring his family to safety in Canada and he achieved that dream. However, tragedy struck on May 16 when Haroutyoun Keshishian suffered a heart attack and passed away in Saint John. The family is devastated and is faced with the unexpected expense of a funeral. The family are devout Armenian Christians and Mr. Keshishian will be buried according to Armenian Christian tradition. The funeral will be in an Armenian Church but, in their tradition, a second service is held 40 days after the burial. This second one will be at St. Luke's. The family is without an income, so a fund has been established to help with funeral expenses. Donations will be gratefully received and can be made to St. Luke's Presbyterian Church, re Keshishian memorial." Mail to St. Luke's, 395 Murray Avenue, Bathurst, NB, E2A 1T4