Thank you to this week's volunteers (Sept 17):
Offering Receivers: Paul Lawson, Tony Watson, 2 Volunteers Needed
Counters: David Dell, Bill Cockburn, Paul Lawson
Scripture Reader: Drew Speight
Greeters: Volunteers Needed
Coffee Hour: Corn Boil Potluck
Nursery: Volunteers Needed
Church School: Terri Astle, Candace & Jordan Schriver
Next week's volunteers (Sept 24):
Offering Receivers: David & Leslee Dell, Jessie Sagawa, Stephen MacKay
Counters: David Dell, Drew Speight, Vickie Macleod
Scripture Reader: Kathy MacKay
Greeters: Blom Family
Coffee Hour: Volunteer Needed
Nursery: Carol McEachen, Sheena Page
Church School: Terri Astle, Candace & Jordan Schriver
Presbyterian College 2018 Cuba Study Tour – The Presbyterian College/Montreal School of Theology will hold its annual Cuba Study Tour in January 2018 and are welcoming a limited number of non-students to join the tour. The cost for the one-week study tour is $2,500/person and includes travel, accommodation, and most activities within Cuba. The purpose of the trip is to meet with Cuban Christians, to explore the identity of the church in Cuba, and to understand what it means for the church of Jesus Christ to find expression in different contexts.  For more info, check out http://www.presbyteriancollege.ca/2017/08/join-the-cuba-study-tour/  .  The deadline to apply is Sept 15, and non PC students must have a reference letter from their minister (in this case, Rev. Wendy).   Rev. Wendy participated in the 2011 study tour and can also share more info on this enriching travel opportunity.
Church Corn Boil – This Sunday, Sept 17th. Join us following the worship service for our Annual Fellowship Corn Boil! Hot, fresh corn as well as beverages will be provided… you bring your favourite pot luck dishes and desserts.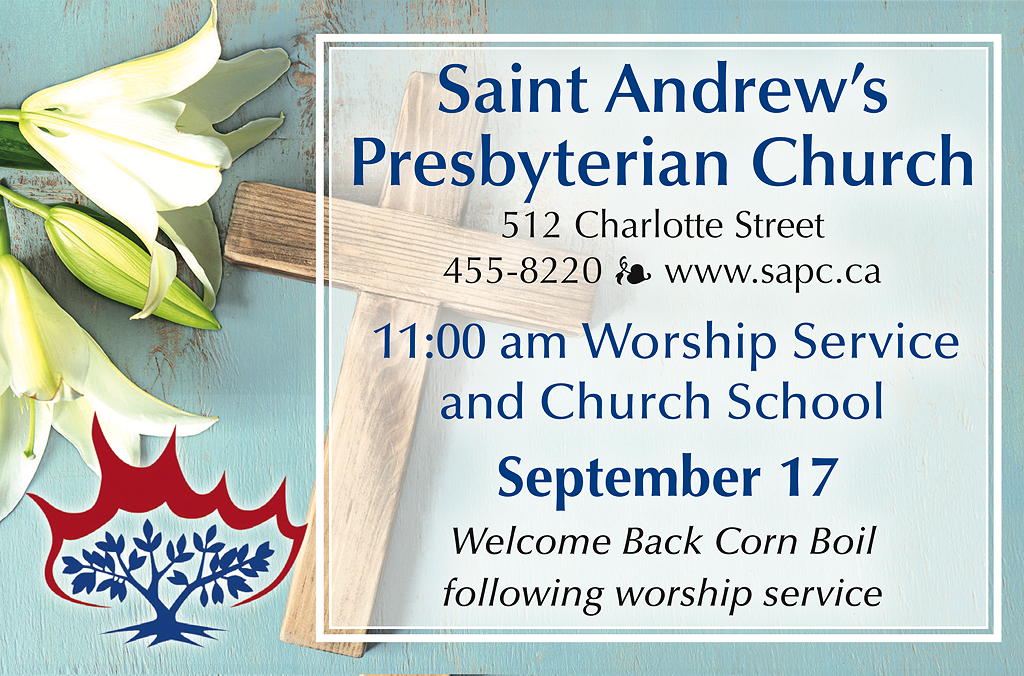 Tuesday Morning Ladies Group – Tuesday's at 9:30am.  We'll meet in the kitchen and enjoy each other's company along with a cup of coffee/tea, some lovely goodies and devotions. Please come and join us.
Annual Youth Campfire at Odell – Friday, September 22nd from 6:30PM to 10:00PM. Campfire at Odell followed by a hike back to the church for more food and fun. Please let Jordan know as soon as possible if you are interested.
College and Career Dinner – Sunday, September 24th from 5:00 to 8:00 at Jordan and Candace's place in Maugerville. Drives can be arranged and diets accommodated. Please let Jordan know by the 23rd if you are interested.
Children's Choir – will be staring Friday, September 29th  from 4:00 – 4:30 pm in the Church Hall.  All children and youth are welcome!  We enjoy singing and playing together, using rhythm instruments and enjoying musical games and activities.  We participate once a month in Sunday morning worship through the Christmas season.  We resume choir after March Break to June.  If you need further information, please contact either David or Kathie Berry.
Girl Guides and Scouts – Sparks, Brownies and Guides meet on Wednesdays beginning September 13. Beavers, Cubs and Scouts meet Tuesday evenings beginning September 19.
Concert at Saint Andrew's – Karon Croll, Contralto, and Ruth Nieboer, Piano, with guest Alexis Ervin, Soprano, will present A Seesaw of Song – from Bach to Britten on Sunday evening, September 24, 7:00 pm at Saint Andrew's.  Along with sacred selections, the program will feature composers JS Bach, Franz Schubert, Ralph Vaughan Williams and a Benjamin Britten arrangement of a playful English folksong.  Admission by free will offering at the door with reception to follow in the Church Hall.  Please join us for an enjoyable hour of musical entertainment.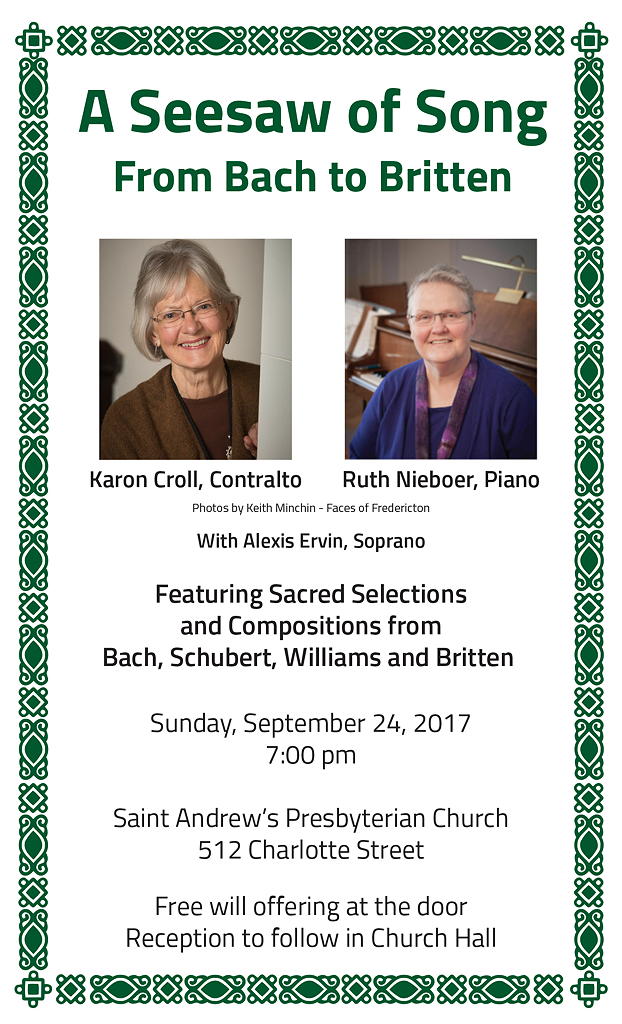 On the Go at St. James Presbyterian Church – All are welcome!
Mondays and Wednesdays (1 – 4 p.m.) – Seniors' Coffee House
Tuesday, Sept. 19 (7 p.m.) – Information Session on Legal & Estate Planning
Friday, Sept. 22 (7 p.m.) – Movie Night featuring "Smurfs: The Lost Village" ($2 per person or $5 per family, includes treats)
Wednesday, Sept. 27 (11:30) – Lunch & Learn on "Downsizing & De-cluttering" (soup/chowder lunch & dessert) ($5 per person RSVP at 450-4031 by Sept. 25). 
Pulpit Supply Schedule:
Sept 17 – Rev. Wendy MacWilliams
Sept 24 – Drew Speight
Oct 1 (World Communion Sunday) – Rev. Dr. Basil Lowery
Oct 8 (Harvest Sunday) – Drew Speight
Oct 15 – Rev. Wendy MacWilliams
Oct 22 – Marg Leonard
Oct 29 (Reformation Sunday) – Jeanne Kaye Speight 
Terry Fox Run –  Looking for teams and/or individuals to participate in the upcoming Terry Fox Run on Sunday, September 17th at Queen's Square. Registration at 12 noon, race at 1:00 pm.  For further information, please visit www.TerryFox.org
Hymn Sing – Join the congregation of Brunswick Street Baptist Church for an hour of singing your favourite hymns on Sunday, September 24, 6:30 pm.  All welcome.
The Parton's  – Sunday, September 24th @ 2 pm Gospel Duo (Tim & Gale) cousins of Dolly Parton will be in concert at St. Anthony's Church.  A free will offering will be taken at the door.  Come out for an afternoon of entertainment and fellowship… you will be glad you did!
Cooking Class – Frugal Friendly Cooking Demystified.  Free classes on Tuesdays from 10:00 – 12 pm. The will be 2 cycles of 4 weeks, either starting in September or October. To register contact Christ Church (Parish Church) at 451-0630 or e-mail at ccpc@nb.aibn.com.
Bridge Luncheon – Nashwaaksis United Church on Thurs, October 19th. To reserve your table for $40, please contact Connie at 472-4744.